If yours is like most families in our community, time is in short supply. You're busy juggling kids' activities, work responsibilities, and maybe caring for your parents. Taking time to put together an estate plan may feel like a luxury you can't afford.
I can relate. When I needed to step in to manage my mother's estate, I was raising two children while managing my busy legal career. The experience reminded me in very real terms that an ounce of prevention is worth a pound of cure. Getting your family's estate plan together can truly save a tremendous amount of time, aggravation and money down the road.
That's what makes our estate planning practice so rewarding. We get to put our clients on a path that will serve them well in good times and in bad and help them secure all the benefits available to them.
We work with families in the following ways:
Create an estate plan to protect wealth, including drafting the four key documents required.
Form a special needs trust to take advantage of estate laws that help provide for family members with special needs.
Act as an effective and efficient trust administrator for a loved one.
Obtain conservatorships for family members who cannot take care of themselves.
Use Collaborative Law strategies to resolve disputes and cost-effectively create the best outcome.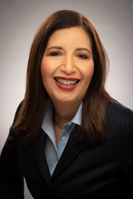 We begin with a free, complimentary, phone consultation directly with me. There is no obligation to work with us. We sincerely want to help you get clear about your objectives for your family and understand the estate planning process.
Ivette Santaella
Estate Planning and Elder Law Attorney